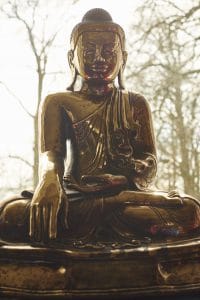 Datum:
Sobota 22 srpen 2020
Neděle 30 srpen 2020

Místo:
Chata Kara - Roudnice v krkonoších
Učitel :
Acharya Samten Kobelt
The weekthun is an excellent chance to deepen your meditation practice. Appropriate for those new to meditation and experienced meditators.
Summer Meditation Program (with Rigden Weekend) 2020

There will be two programmes back to back. There will be a weeklong meditation programme open to all followed by the Ridgen Weekend, which is open to those who have completed at least Level 5 of Shambhala Training.
More details to come!
Teacher: Acharya Samten Kobelt
Dates: 22-27 August 2020 (weekthun) / 28-30 Rigden Weekend
Place: Mountain cottage KARA, Roudnice v Krkonoších 15, 514 01 Jilemnice, www.chatakara.cz
Food: home made by our grandmothers. If you have diet requirements, please let us know in advance
Language: English with translation to Czech
Prerequisities: Open to all